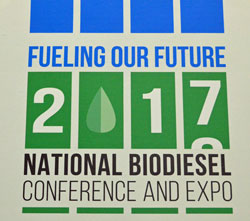 Welcome to the virtual newsroom for the 14th Annual National Biodiesel Conference & Expo held January 16-19, 2017 in San Diego, California.
The conference includes the latest information and innovations in the biodiesel industry, legislative updates, awards and honors. This newsroom includes links to photos, audio and video from the conference. Find more information on the biodiesel industry at the National Biodiesel Board website and the conference blog.
All content posted here is available free of charge for digital or print publication or broadcast. Credit can be given to AgNewsWire.
2017 National Biodiesel Conference photo album
New NBB CEO and Chairman Kick Off #NBB17 –
Rehagen and Engelbrecht, general session NBB CEO Donnell Rehagen meets the press
GM Announces 20 for B20 in Diesel Vehicle Lineup – GM announcement at #NBB17Read More