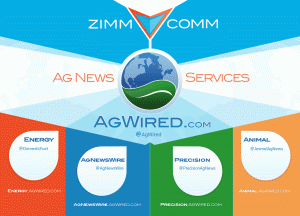 AgNewsWire is the evolution of ZimmComm New Media's Talking News Release service which began in 2004. Besides the production and distribution of standard and multimedia news releases, the service can also be used to distribute other forms of documents such as daily summaries of event activity that can include links to PowerPoint presentations and recorded audio presentations.
We call it agriculture's "virtual newsroom."
AgNewsWire is a source of agricultural media content for reporters, companies, organizations and individuals seeking high quality photos and audio from around 50 industry events each year. AgNewsWire also serves as a source for multi-media content relating to current issues. Anyone can subscribe to the RSS feed which sends email alerts when new content is added and updated daily. AgNewsWire distributes news releases to more 2,100 agricultural journalists and can be customized to send to over 1,500 alternative energy reporters.
In short, AgNewsWire is an agricultural content service provided for those who have ag news and want to get it distributed, and for those who need ag news content for programs and publications.
AgNewsWire is published by ZimmComm New Media, LLC, owned by Chuck and Cindy Zimmerman. ZimmComm specializes in multi-media content creation for the agricultural industry and maintains several online publications, including Precision.AgWired.com, Energy.AgWired and Animal.AgWired.
AgWired Contacts
Publisher – Chuck Zimmerman – @agriblogger
Managing Editor – Cindy Zimmerman – @farmpodcaster
General Manager – Clint Underwood – @ClintUnderwood
Social Media Director/Animal Ag Editor – Jamie Johansen – @JamieDJohansen
Precision Ag Editor – Kelly Marshall – @DaddysTractor
AgNewsWire Editor – Lizzy Schultz – @theLizzyKay
Contact:
ZimmComm New Media, LLC
1507 Templemore Dr.
Cantonment, FL 32533
850-780-6617