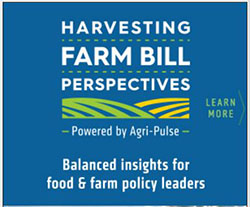 Agri-Pulse hosted a Farm Bill Summit in Washington DC on the day before National Ag Day as part of their on-going Farm Bill Series.
This post features photos and audio from the event on March 20 at the National Press Club.
Agri-Pulse Farm Bill Summit photos
Preview of Agri-Pulse Farm Bill Summit: Interview with Agri-Pulse president Sara Wyant
Opening Remarks: Agri-Pulse president Sara Wyant
Remarks from Zippy Duvall, President, American Farm Bureau Federation
Remarks from Tom Zacharias, President, National Crop Insurance Services
Remarks from Galen Lee, President, American Sugarbeet Growers Association
Remarks from Chuck Conner, President/CEO, National Council of Farmer Cooperatives
Breaking Down the Baseline & Budget Challenges - Jonathan Coppess, University of Illinois
Panel: Next Generation Risk Management - What Does It Look Like?
Panel: Conservation - What Works, What Doesn't
Remarks from John Keeling, National Potato Council
Remarks from Todd Van Hoose, President/CEO, Farm Credit Council
Remarks from Rep. Mike Conaway, House Ag Committee Chairman
Panel: Bridging Gaps Between Farm & Food Policy
Remarks from Leif Magnusson, President, Claas
Panel: How Farm Bill Can Help Next Gen Farmers
Remarks from Rep. Collin Peterson, House Ag Committee Ranking Member
Remarks from Senator Debbie Stabenow, Senate Ag Committee Ranking Member
Remarks from Senator Pat Roberts, Senate Ag Committee Chairman
Doan Award